Having a vacation to an exotic location, such as The Pearl of the Andaman Sea or "Phuket" in itself can prove to be a romantic getaway for you and your partner. However, apart from the crystal-clear waters, stunning beaches, and lush tropical forests, having dinner at the right Phuket restaurant can also prove to be a romantic activity for your getaway.
Still, one major question stands: "Which restaurant should I choose?" The small details matter when it comes to finding a romantic restaurant in Phuket. That is why in this article, we will discuss the essential qualities to look out for in a Phuket restaurant.
The Right Seating
A romantic dinner is comparable to "a meal you and your partner are having on a private island." Thus, the restaurant should be able to provide adequate space for your table to be separated from others. As for the seating arrangement, you should be seated close to your partner without having to shout while talking to each other, but far enough apart to prevent any uncomfortable experience.
Intimate and Cozy Ambiance
The ambiance of a restaurant plays a significant role in creating a romantic setting. For example, a dimly lit interior can create an intimate and cozy atmosphere, while soft lighting and candles can help set the mood, as well as give off an inviting glow. In addition, soft colors and elegant decor, such as fresh flowers or fine art, can also help create a romantic setting.
Unobtrusive Music
The right background music can help set the mood and create a romantic atmosphere; however, you would want to avoid shouting at each other in order to hear each other. As such, soft and slow music, such as jazz or classical, can be ideal for a romantic dinner. Live music, such as a piano or violin performance, can also enhance the romantic atmosphere.
A Meal With Shareable Dishes
The food and drinks served at a romantic restaurant in Phuket can also contribute to the romantic ambiance. Fine dining or elegant presentation can be good options for a romantic meal and is likely to be the top choices for many couples. However, a "shared dish," from a shareable main dish to desserts, is perhaps the most wonderful option for honeymooners to elevate their moment together. Additionally, champagne, wine, or other types of drinks can add to the romantic vibe.
Attentive Services
Attentive and personalized service can make a restaurant more romantic. So be sure to pick a Phuket restaurant with knowledgeable, attentive, and discreet staff to enhance the overall experience and make your meal feel more special. A professional server will take care of all your needs while you and your partner can fully enjoy each other's company.
The Right Location
A restaurant with a picturesque view can be very romantic, especially if it overlooks a beautiful outdoor setting. An oceanview restaurant in Phuket with a skyline view of the ocean or a restaurant in Kamala Beach can create a special and memorable atmosphere that enhances the overall dining experience. Also, a secluded table in a quiet corner of the restaurant can be romantic, as it creates a more intimate and private setting.
Where Can I Find A Romantic Restaurant in Phuket?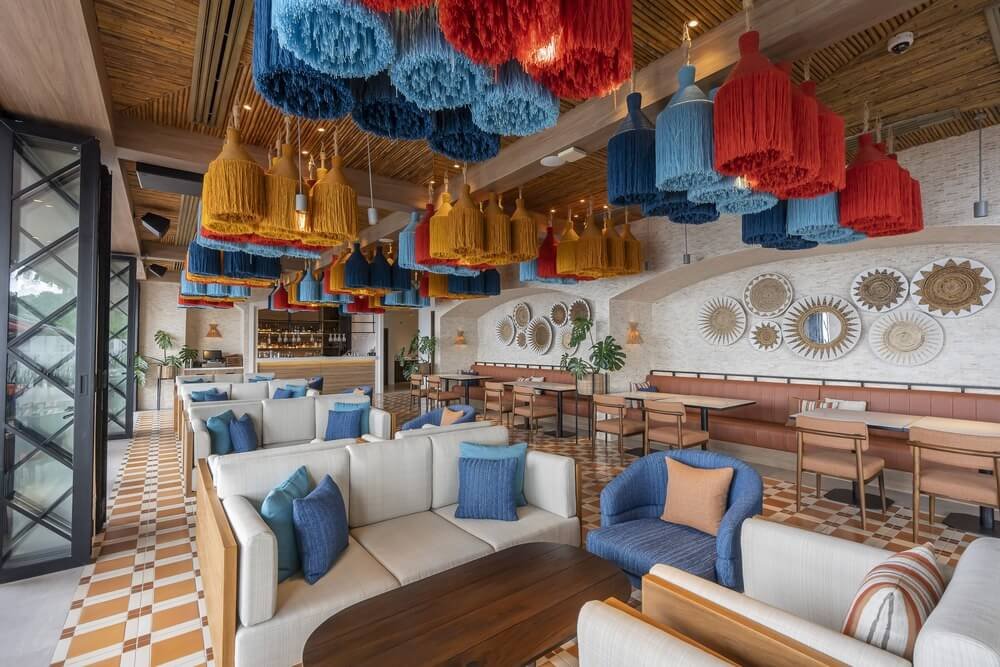 A romantic restaurant in Phuket may be easy to find, but it could be challenging to find one that can give you and your partner a truly romantic and catered experience. At Casa Boho, we can provide you with the perfect atmosphere, food, and services for your romantic dinner in Phuket.
Casa Boho is a bohemian-style restaurant located on the hillside of Kamala Bay, on the rooftop of the esteemed Hyatt Regency Phuket Resort. Let yourself and your partner indulge in a covered dining spot with comfortable and intimate seating under the vista of the Andaman Sea. Meet with a range of culinary delights, including Cuban-style croquettes, tortillas, seafood ceviches, tiraditos, a range of signature desserts, and a vast array of cocktails at your order.
Enjoy a romantic meal in the atmosphere of funky Latin music in different areas of Casa Boho, including The Pool Deck, where you can enjoy your cocktail by the infinity pool while watching the sunset. The Roof Terrace offers the best panoramic views of the Andaman Sea. The Den is a playground space downstairs from the restaurant, is furnished with funky décor and filled with activities that are perfect for a hang-out after a meal.
The next time you plan to visit Phuket with your significant other, be sure to keep Casa Boho in mind.
Casa Boho Opens Every Day: 12:00 PM – 10:00 PM
Contact us
Tel. (+66) 76 231 234
Email: info@casabohophuket.com
See the latest offers and happenings at our website or follow us on social media:
Facebook: Casa Boho PhuketInstagram: casabohophuket