Going on a gastronomic journey on the charming island of Phuket is an experience you should immerse yourself in at least once. Phuket is a renowned tourist destination in Thailand, and there are many restaurants that serve a variety of cuisines, including Thai, Japanese, Latin American, Mexican, and Spanish.
Latin American restaurants in Phuket only recently made a presence on the island, but they are rapidly becoming prevalent. From the old town to the beach side, tacos, enchiladas, and tapas can always be enjoyed with family and friends.
So, next time you are visiting the island on vacation, why not go to a Phuket restaurant with Latin American, Mexican or Spanish food? It might come as a surprise, however; Phuket actually boasts an array of Latin American, Mexican, and Spanish restaurants. Some dedicate themselves to serving steaming paella, juicy gambas al ajillo, and spicy beef birria. While others offer a combination of brunch and cocktail menus.
"Where can I find a Latin American restaurant in Phuket?" you asked. In this article, you will learn of several popular destinations in Phuket where you can discover the right restaurant for your holiday.
Patong Beach — Most Popular Beach Resort Town in Phuket
You know it, and everyone recognizes it, even if they have never been there. Patong Beach is one of the most popular beaches in Phuket and is known for its vibrant nightlife, as well as an immense choice of hotels, shopping, and dining scene.
Simply walk down the Bangla Night Market. You will instantly see rooftop bars, beach clubs, and international restaurants ranging from Thai, Turkish, Indian, Latin American, Mexican, Spanish, and many more surrounding the area. Similarly, the beach area offers a wide choice of street food vendors where you can pick up a quick taco bite or two, as well as other drinks and ice cream.
One important thing to note is that Patong's nightlife is vibrant and crowded. So, if you are going out for dinner at a Latin American restaurant in Patong, be sure to make a booking beforehand.
Karon Beach — One of the Longest Beaches of Phuket
Karon Beach is a well-known 5 km stretch of white sand located on the west coast of the island. It boasts a wide range of restaurants and bars catering to all tastes and budgets. Visitors can find Thai food, seafood, international cuisine, and even fast food options. Many of the restaurants are labelled as oceanview restaurants in Phuket, meaning they are located on the beachfront, offering stunning vistas of the sea while you dine or relax with your next favourite meal.
At the southern end of Karon Beach, you will find high-end restaurants with Latin American food and a view. To the north, there are various budget-friendly international places. In between, there are choices of great hotel restaurants, stand-alone eateries, and local seafood joints you can enjoy.
Kata Beach — A Laid-back Beach, Perfect for Families
A beautiful and peaceful beach on the west coast of Phuket and one of the most visited beaches after Patong Beach. The golden sand comes with endless activities, and hundreds of people come each day to bathe in the sun and swim in the sea.
Kata Beach can be a bit bustling during the high season, but it is less crowded than Patong and still offers a broad range of shopping venues, nightlife, hotels, and of course, numerous Phuket restaurants. This makes Kata Beach the perfect spot for a wonderful family meal at a Latin American restaurant in Phuket.
There are various dining options in Kata Beach, ranging from inexpensive street cuisine to Phuket's most upscale dining establishments, where you can find delicious tortillas, ceviches, tiraditos, and more. The variety of food and atmosphere in Kata will surprise you.
Old Town Phuket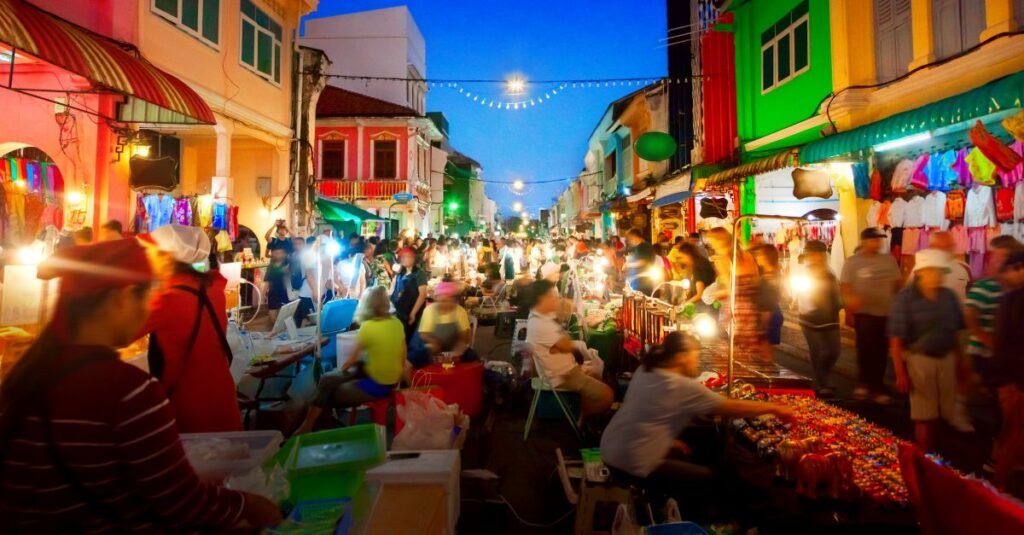 This historical center of Phuket is situated in the southern part of the island. This town may not be enormous, but it is rich in culture and history that one can immerse themselves in. The buildings in Old Town Phuket are characterized by their colorful facades, intricate patterns, and ornate details from Sino-Portuguese architecture. Many buildings have been restored and converted into galleries, museums, cafés, and boutique shops, creating a vibrant and eclectic atmosphere.
Old Town Phuket is also a great place to try local street food and experience the island's culinary scene. You can sample excellent dishes with recipes from Thai, Indian, Chinese, and Japanese from late-night food stalls, or you can find a nice meal at an international Phuket restaurant in the town itself.
Kamala Beach
Kamala Bach offers a tranquil and quieter atmosphere than other beaches on the island. There are many things to do on the beach, ranging from the Phuket Fantasea Theme Park, a local market, and the beach itself. The stretch of Kamala Beach is also known as the "Millionaire's Mile," home to many picturesque hotels, including the Hyatt Regency Phuket Resort.
If you were to visit the area, there are good selections of restaurants in Kamala where you can grab a bite while indulging in the relaxed atmosphere of the beach. Here you can find Thai and international restaurants right on the beach, seafood eateries, and Western-style restaurants that serve Mexican and Spanish menus. It is also home to an oceanview restaurant in Phuket with top views of the Andaman Sea, Casa Boho.
These are only a few of the countless Phuket restaurants you can freely discover. Search the internet, ask the locals, or get recommendations from your hotel concierge. There is an abundance of Latin American restaurants in Phuket waiting!
Casa Boho — A Delightful Oceanview Restaurant in Kamala
Casa Boho is a bohemian-style restaurant situated on the hillside of Kamala Bay, on the rooftop of Hyatt Regency Phuket Resort, complete with open-air rooftop bars, swimming pools, live DJ music, and delectable Mexican and Spanish cuisine. An ideal spot for a meal for those in the Kamala beach area.
Indulge in a covered dining spot of this restaurant in Kamala with comfortable seating and a range of Latin American culinary delights, such as Cuban-style croquettes, tortillas, seafood ceviches, tiraditos, a range of signature desserts, a vast array of cocktails served under the bohemian atmosphere of live DJ music and the grand vista of the ocean's horizon. It can be both a partying place for a group of friends or a romantic night with your partner.
Casa Boho also offers spaces where you can spend your holiday enjoying memorable moments under the shade of warm sunset. This includes The Pool Deck, where you can enjoy your cocktail by the infinity pool while watching the sun or the stars. The Roof Terrace offers the best panoramic views of the Andaman Sea, making Casa Boho the top oceanview restaurant in Phuket. The Den is a playground space downstairs from the restaurant, furnished with funky décor and filled with activities that are perfect for some after-meal fun.
---
Casa Boho Opens Every Day: 12:00 PM - 10:00 PM
Contact us
Tel. (+66) 76 231 234
Email: info@casabohophuket.com
See the latest offers and happenings at our website or follow us on social media:
Facebook: Casa Boho Phuket
Instagram: casabohophuket