Among the various and vibrant activities that travelers can enjoy in Phuket, having a meal in a top-level Phuket restaurant would always offer outstanding experiences for any traveling solos, families, or couples. But in recent years, the trend of rooftop bars in Phuket is growing fast, and many people have come to love a happy hour at a bar in Phuket. Having a meal or a drink while absorbing the sunset against lush greenery backdrops is an astounding sight to behold.
Today, there are a number of rooftop restaurants in Phuket to choose from, including Casa Boho. Why are rooftop bars on this island becoming so popular among tourists? Here are the top 7 reasons why many love Rooftop bars in Phuket.
Top 7 Reasons To Love Rooftop Bars in Phuket
1. It is a Wonderful Way To Enjoy Island View
Without a doubt, everyone wants to get the full scenery of a destination they are visiting. For this particular reason, take advantage of rooftop bars in Phuket where you can simply soak in the 360° panoramic view of Phuket's lovely hilltops, sandy beaches, and the ocean's far-reaching horizon while sitting back and enjoying a cocktail in hand. It is perhaps the best approach to seeing the full vista of this lovely tropical island.
2. High-Quality Social Time
It is always better to enjoy a meal with buddies or meet new people to hang out with. So if you are traveling the island with a group of friends, it is a fantastic idea to pick a spot and better enjoy the happy hour bar in Phuket while chatting and relaxing.
Likewise, rooftop bars in Phuket provide the perfect opportunity to meet and greet new people, either sitting next to you at the bar or looking at the sunset on the roof terrace.
3. Outstanding Meal Options
A number of the best cuisine selections can be found across many rooftop bars in Phuket. Ranging from traditional Thai menus, and Japanese delights, to western meals such as Spanish or Mexican food. For instance, Casa Boho is your top choice if you prefer a Latin restaurant in Phuket, with the menu including but not limited to tapas, tacos, and ceviches, along with various types of desserts and cocktails.
4. Impressive Design and Décor
Apart from the gastronomic experience, one essential factor every restaurant needs to have is the 'atmosphere.' When it comes to decoration and design in rooftop restaurants in Phuket, especially ones managed by the finest hotels, they are virtually unrestricted. That is why you can find countless designs across restaurants in Phuket.
Our Casa Boho restaurant is decorated with a bohemian style full of life, nature, and texture that perfectly harmonizes with the tropical backdrop of Phuket island.
5. Entertainment
The majority of rooftop restaurants can do what normal restaurants cannot fully do. That is incorporating entertainment elements. Usually, this would include live music, DJs, and vocals, as well as other entertainment facilities such as a swimming pool, pool table, foosball table, etc. all of which bring additional flair to your rooftop meal.
On top of that, rooftop restaurants would frequently host bustling events across the year. Rooftop eateries are the perfect spots for you if you prefer dining in a public setting with a lively crowd and a fun atmosphere. You can socialize with friends, meet new people, and indulge in the available entertainment.
6. Alleviates Monotonous Meal Experience
We consistently look for something new in every vacation, and the usual experience may be too boring or too dull to appreciate. For a change, eating at a rooftop restaurant establishment could be the ideal place to unwind as you look to enhance your dining experience. Rooftop restaurants offer a new variety to your eating experience while also relieving the boredom or repetition of eating at normal restaurants or indoor venues.
7. The Sunset to Relish
Another obvious advantage of a rooftop restaurant in Phuket is the chance to be in awe of the breathtaking sunset view, obstructed by nothing. When the sun sets, it casts a gorgeous tint of eye-catching colors onto the restaurant as well as the surrounding landscape. As you eat your favorite meal, this view can be soothing and calming for the mind. After a long day of activity on the island, you can consider rooftop bars as a pitstop to unwind before nighttime.
As you can see, there are plenty of reasons why so many people love to visit a rooftop bar in Phuket. From a good gastronomic experience to an engaging atmosphere, enjoyable facilities, and an opportunity to relish an amazing sunset view complemented by the turquoise water of the Andaman Sea.
Finding the best rooftop restaurant in Phuket could be a challenge as there are many establishments on the island that offer a rooftop experience. Should you prefer the ideal spot to have a great meal under a beautiful landscape, Casa Boho is the perfect place.
Casa Boho – A Luxurious Rooftop Restaurant in Phuket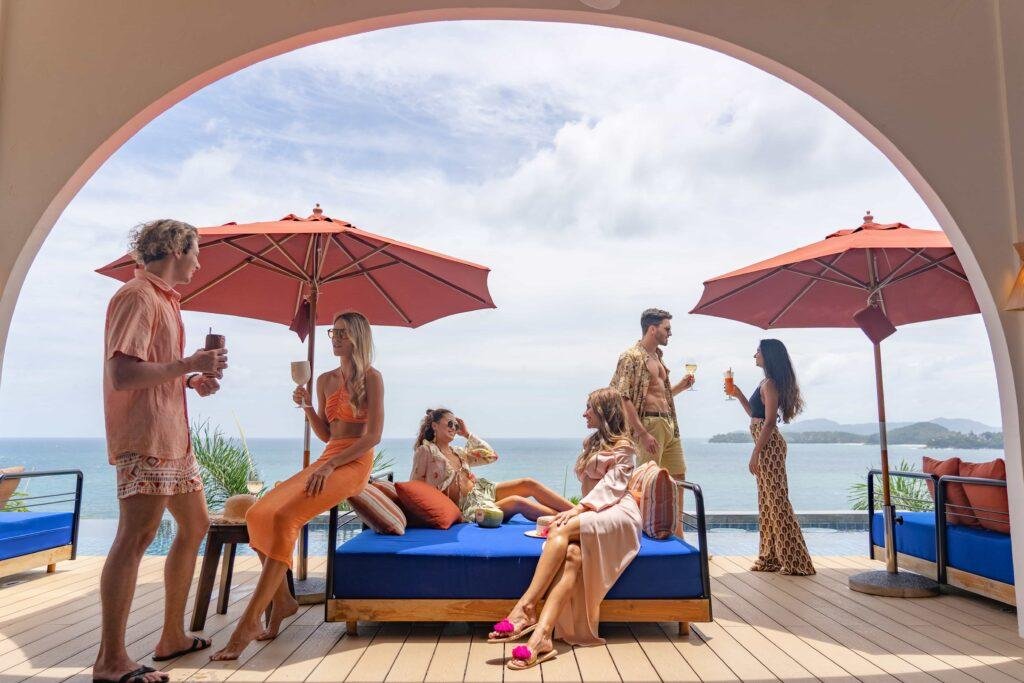 Casa Boho is a bohemian-style restaurant, ideally situated on the hillside of Kamala Bay, on the rooftop of Hyatt Regency Phuket Resort. Indulge in a covered dining spot with comfortable seating and a range of culinary delights, such as Cuban-style croquettes, tortillas, seafood ceviches, tiraditos, a range of signature desserts, a vast array of cocktails served under the bohemian atmosphere of funky Latin music and lavish nature's spirit.
Our restaurant is divided into different exciting areas including, The Pool Deck, where you can enjoy your cocktail by the infinity pool while watching the sunset. The Roof Terrace offers the best panoramic views of the Andaman Sea The Den, is a playground space downstairs from the restaurant.
Casa Boho Opens Every Day: 12 pm – 10 pm
Contact us
Tel. (+66) 76 231 234
Email: info@casabohophuket.com
See the latest offers and happenings at our website or follow us on social media:
Facebook: Casa Boho PhuketInstagram: casabohophuket