Are you hoping to spend an unforgettable evening with your friends, family, or loved ones at a Phuket restaurant? Does Mexican or Spanish food sound good to you? Would you also prefer music to light up your dinner? If so, it is essential to select the most appropriate location for the occasion. But as we all might have known, there are countless restaurants available in Phuket, and it can be overwhelming to have too many options to choose from.
Fortunately, the solution to finding the perfect location for your special occasion is right here. Continue reading to find out about the things you need to keep in mind when choosing a Mexican/Spanish restaurant in Phuket with the best entertainment, atmosphere, and dishes.
5 Things to Consider When Choosing The Perfect Mexican/Spanish Restaurant in Phuket
The restaurant you pick should be ideal for exploring a variety of cuisines that can satisfy any taste buds. In addition, the atmosphere is just as important as the food. So whatever the occasion, keep these points in mind before deciding on a restaurant for your evening.
1. Restaurant's Location
One of the first matters to consider is the location. The restaurant should be located near the hotel or resort you are staying in. This is especially important for a Phuket night out that may involve wine, cocktails, or any alcoholic beverages so you can go back to your room conveniently while being safe and sound. What is more, the location is a deciding factor for the vistas. Certain restaurants in Kamala might be situated on a hillside with a view of the ocean's horizon, while some may offer a lake or mountain view to make your meal an exceptional experience.
Furthermore, be sure to see if the restaurant is easily accessible, visible, and offers a parking space.
2. Restaurant's Ambience
The vibe of a restaurant is pertinent to the experience you will receive. This depends on what kind of "night out" you will be having. Should you be hanging out with friends, you might want to consider a rooftop restaurant with funky music to dance to. Conversely, for a romantic dinner, an oceanview restaurant in Phuket is recommended and is sure to provide you with a memorable night. Regardless of the night outs you will be having, be sure to pick a place that fills up positive energy with unique decor, comfortable seating, charming colors, and dishes to your liking.
3. Cuisine Variety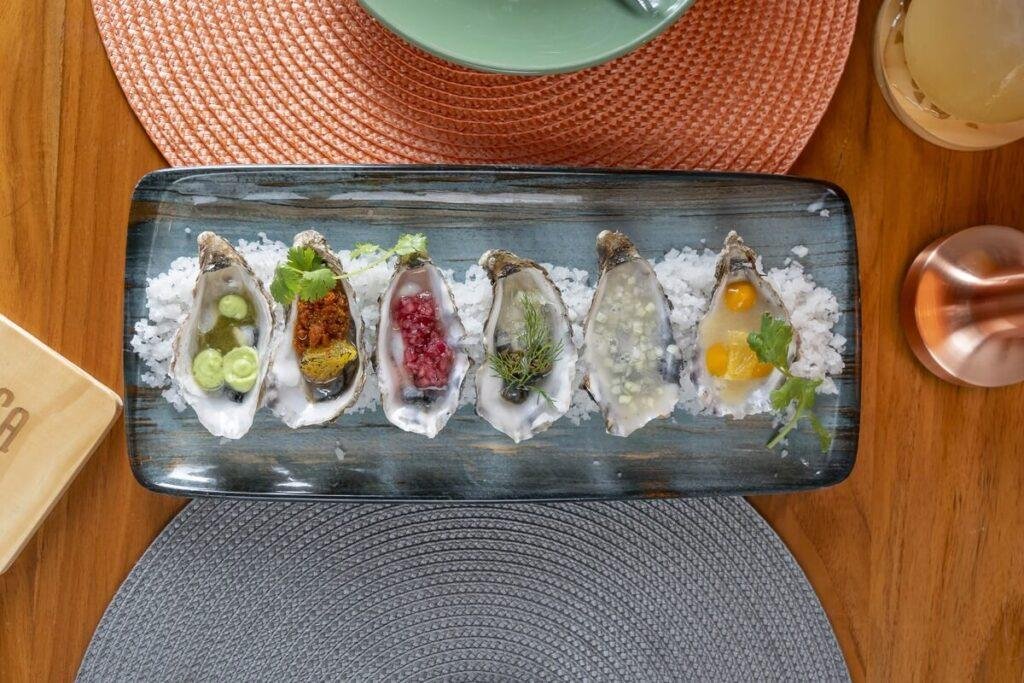 When speaking of preferred dishes, it goes without saying that certain restaurants are skilled at a specific type of menu or dishes from a particular place. However, for a night out to be most entertaining, consider choosing a Phuket restaurant with a range of cuisine available. This also includes beverages such as wine, cocktails, etc. Suppose you, your friends, and your loved ones want to try out different flavors. In that case, selecting a restaurant with international cuisine options is most reasonable.
In contrast, if you wish for a specific dinner for your night, then we would recommend choosing a restaurant with distinct meal options, such as a Mexican/Spanish restaurant in Phuket is the way to go.
4. Price Range
From easy-to-find street food to luxurious Phuket hotel restaurants, each place has its own meal prices. This is why it is essential to consider the price of each restaurant before entering. You may need to evaluate if the price of each menu is reasonable or appropriate for the serving size. Also, another question to ask is, "is the price worth it for the overall atmosphere and services that the restaurant offers?" Nevertheless, the choice of restaurants depends on each person's budget, but for a night out with a group of friends, look for one that offers good value for money. This option does not imply being cheap, but rather getting a good deal for your money and that you are pleased with the outcome.
5. Restaurant's Service
Nothing is worse than going out on a special dinner and then being treated poorly by the staff. When you have found a Mexican/Spanish restaurant in Phuket that matches your preference, remember to observe how the staff operates, especially the waiters and waitresses. See how they converse with customers, how they keep their hygiene, and how effective they are during their busy hours. A great server will not only bring you food but will also help you choose the best meal option and give you a good impression. Additionally, you can check out online reviews to get an idea of the restaurant's service quality.
All the above-mentioned are several factors that you ought to consider when choosing a restaurant, in order to acquire the best dinner night experience.
If you are looking for the best Mexican/Spanish restaurant in Phuket Latin, Spanish, and Mexican cuisines, Casa Boho is the perfect place for you.
Casa Boho – A Luxurious Latin Restaurant in Phuket
This bohemian-style restaurant is ideally situated on the hillside of Kamala Bay, on the rooftop of Hyatt Regency Phuket Resort. Indulge in a covered dining spot with comfortable seating and a range of culinary delights, such as Cuban-style croquettes, tortillas, seafood ceviches, tiraditos, a range of signature desserts, a vast array of cocktails served under the bohemian atmosphere of funky Latin music and lavish nature's spirit. It can be both a partying restaurant for a group of friends or a romantic restaurant in Phuket for traveling couples.
Apart from the restaurant area, Casa Boho also offers spaces where you can spend your holiday enjoying memorable moments under the shade of warm sunset. This includes The Pool Deck, where you can enjoy your cocktail by the infinity pool while watching the sunset. The Roof Terrace, offering the best panoramic views of the Andaman Sea, making Casa Boho the top oceanview restaurant in Phuket. The Den, a playground space downstairs from the restaurant, is furnished with funky décor and filled with activities that are perfect for a hang-out after a meal.
Whether you wish to have a night out with friends or your significant other, Casa Boho is the top Phuket restaurant choice in Kamala Bay, complete with Mexican/Spanish cuisine, bohemian vibes, music, and activities, as well as exceptional hotel hospitality — all presented under the roof of the panoramic sky.
Casa Boho Opens Every Day: 12:00 PM – 10:00 PM
Contact us
Tel. (+66) 76 231 234
Email: info@casabohophuket.com
See the latest offers and happenings at our website or follow us on social media:
Facebook: Casa Boho PhuketInstagram: casabohophuket