The island of Phuket is a remarkable topical destination that attracts millions of tourists from all over the globe. Apart from the expansive beaches and clear ocean, Phuket offers a world of gastronomic experience. There is a vast choice of Phuket restaurants, from delicious street food and fun bars with live music to luxurious meals at hotel restaurants available on the island.
Phuket might be known for its lively and vibrant nightlife. However, if you are looking for peace and quiet during your meal, our recommendation is to find a restaurant in Kamala Beach.
The Peace & Calm of Kamala Beach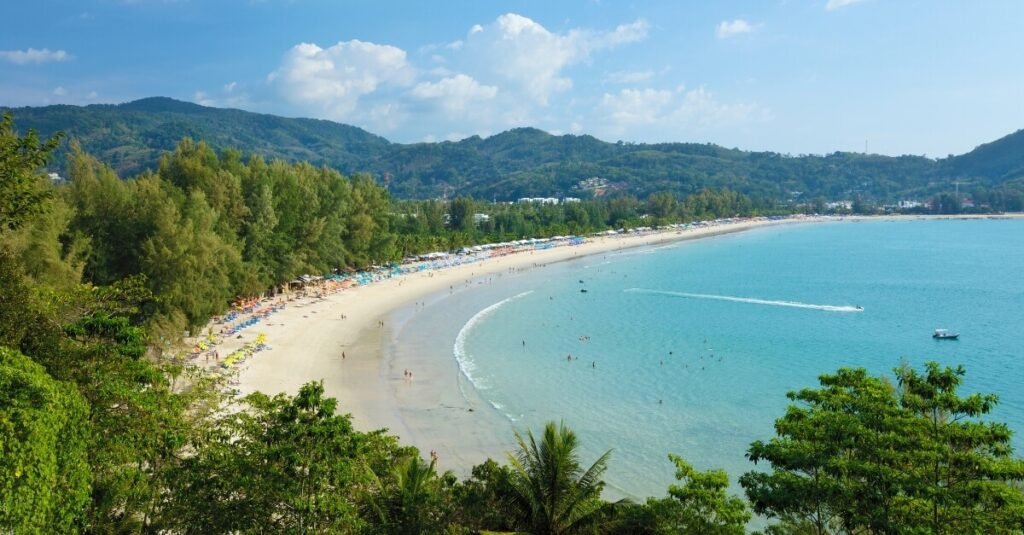 Kamala is a beautiful stretch of beach that is 2 kilometers long, situated between the famous beaches of Patong and Surin. Despite its smaller size, it is a well-visited destination for tourists and locals alike, as it offers soft white sand, clear blue waters, and laid-back atmosphere.
With its quieter pace, Kamala Beach is a great destination for those looking for a more relaxed and peaceful experience. The beach is popular among families due to its calm waters and relatively safe swimming conditions.
In addition to its natural beauty, this gorgeous beach also boasts a variety of restaurants and bars right on the beach. If you are looking for an oceanview restaurant in Phuket, rest assured that Kamala Beach will spoil you with countless options.
Why Choose a Restaurant in Kamala?
Kamala Beach is a great place to eat at restaurants. The area has a wide variety of restaurants, ranging from local Thai eateries to international fine dining establishments. The restaurants in Kamala offer a range of cuisine options, including seafood, Thai, Italian, Indian, Latin, Mexican, and more.
Many of the restaurants in Kamala are located on the beachfront, offering stunning views of the ocean while you enjoy your meal. Some restaurants also offer live music or other forms of entertainment to enhance your dining experience. On top of the beachfront restaurants, the area around Kamala also provides a variety of dining options, especially in the village. The village of Kamala is only a short distance from the beach and home to a range of restaurants, cafes, and bars, offering everything from street food to high-end dining experiences.
Some famous restaurants in Kamala include:
L'Arôme By The Sea
SILK Restaurants & Bar
Bella Vista Kamala
Plum Prime Steakhouse
Thalung Thai at Paresa Resort
Smile Bar
Tengoku
These are just a few examples of the numerous restaurants in Kamala that are waiting for you to discover. But if you prefer a view from the top, then a rooftop bar in Kamala will amaze you with its view of the ocean horizon and the lush greenery of the island. One such restaurant is yours truly, "Casa Boho" at Hyatt Regency Phuket Resort.
Casa Boho — A Bohemian Rooftop Restaurant in Kamala
Casa Boho is a rooftop restaurant in Kamala, offering bold flavors, bohemian vibes, live DJ music, and delectable Latin American cuisine. All under the vista of the magnificent Kamala Bay. Here, you can find comfortable seatings and meet with a range of culinary delights, including Cuban-style croquettes, tortillas, seafood ceviches, tiraditos, a list of signature desserts, and a vast array of cocktails curated at your order.
You can enjoy your meal in a private corner in our restaurant area or opt for the Pool Deck, where you can relax in the infinity pool, indulge in the sunset view and have your cocktail served to you at the pool. Should you wish for the best possible sunset views, then head upstairs to our Roof Terrace, where you can lay back on our infinite sofa and let the gentle sea breeze drift by while you enjoy your meal with unobstructed panoramic views.
Last but not least, after finishing your meal, you can hang out at the Den, which is a private playground decked out with funky furniture and a widescreen TV that is unrivaled by any other restaurant in Kamala. This "fun" area is filled with numerous games, such as pool, foosball, and table tennis, to keep you entertained after a meal.
Without a doubt, Casa Boho is the complete restaurant in Kamala that you can find.
Casa Boho Opens Every Day: 12:00 PM – 10:00 PM
Contact us
Tel. (+66) 76 231 234
Email: info@casabohophuket.com
See the latest offers and happenings at our website or follow us on social media:
Facebook: Casa Boho Phuket
Instagram: casabohophuket