Among Kamala's vibrant and lively eateries offering international dishes, Latin American restaurants are rapidly gaining favour among locals and visitors. This incredibly diverse cuisine is the result of various influences, including indigenous, Spanish, European, and African foodways.
Ingredients such as corn, potatoes, beans, tomatoes, avocados, peppers, and a variety of tropical fruits are commonly used. Additionally, different types of meat play a central role in Latin American cuisine. Whether it's beef, pork, chicken, or fish, they are prepared in various ways, from grilling to stewing to marinating.
At Casa Boho, a rooftop restaurant in Phuket, we celebrates a range of popular Latin American dishes. Today, we will introduce some of the must-try items for the next time you visit our restaurant in Kamala.
Must-try Items at Casa Boho
Casa Boho is a bohemian-style Latin American restaurant located on the rooftop of Hyatt Regency Phuket Resort. It is complete with open-air rooftop bars, swimming pools, live DJ music, and of course, delectable Latin American cuisine. Here are some top dishes that will take your taste buds on a journey.
Tapas & Tacos Menu
Our tapa and taco dishes perfectly capture the essence of Spanish and Mexican culinary concepts. Our chefs expertly curate the menu while incorporating local ingredients to bring unique flavours to your palate. Here are some of our popular dishes:
Croquetas de Carne Assada
Indulge in the rich and savoury flavours of our Cuban-style croquettes, lovingly cooked to perfection. This Cuban-style deep-fried roll is filled with mouth-watering braised Angus brisket, the perfect choice for meat lovers.
Zesty and vibrant spicy chipotle aioli are served alongside these delightful croquettes. The creamy aioli's smoky chipotle undertones bring an exciting twist to the dish, making every mouthful a harmonious blend of tastes.
Our special Gambas al Pil Pil is made from fresh Andaman Sea tiger prawns, cooked in a generous infusion of extra virgin olive oil and garlic, creating a rich and aromatic scent that fills the table.
We finish this menu with a side of Spanish sweet paprika, parsley, and Meyer lemon. Served with slices of sourdough bread, Roma tomato, and extra virgin olive oil.
Charred Vegetable Skewers
Enjoy a variety of colours and flavours with Charred Vegetable Skewers, our tantalising vegetarian menu. Immerse yourself in the smoky aroma as the vegetables—carefully selected for their freshness and quality—are expertly charred to perfection. With trio chilli dip, mohlo apimentados, huancaina, sweet potato and corn.
Ceviches & Tiraditos
Ceviche and tiradito are both iconic and refreshing appetisers from Latin American cuisine. These menus include various types of seafood and often come with an array of vegetables to create a mix of textures and flavours.
A ceviche menu which you can only find at our Latin American restaurant. We choose fresh sea bass to cook and marinate in leche de tigre, aji amarillo, jalapeno, Seville orange, ruby grapefruit burnt avocado, green olives, red onion, and breaded calamari. All of these create a bold and complex flavour, a popular choice for seafood lovers looking for a taste of Latin American coastal cuisine.
At the heart of this creation is the Hamachi, a premium-grade yellowtail fish known for its delicate buttery texture. Carefully sliced into bite-size pieces and cooked in yellow serrano chilli, leche de tigre, purple yam, toasted corn, sweetcorn, and red radish. The texture buttery texture perfectly blends into the colourful assortment of vegetables, producing a mix of flavours that leave an impression on your palate.
Meet our palm-size oysters freshly sourced from Phuket's ocean. They are served with an assortment of garnishes to spruce up the flavour, including Nam jim, coriander oil, burnt grapefruit, chorizo, red wine vinegar, caper buds, dill, Meyer lemon caviar, leche de tigre, aji amarillo, and more. Savour the creamy and umami flavour of this dish only at our rooftop restaurant in Phuket.
Mains
Our main dishes are sure to captivate you with awe as our chef carefully curates each menu with culinary mastery and photo-ready plate decoration.
Blackened Salmon with Papaya Mojo & Guacamole
Enjoy a burst of spice in our blackened salmon, a cajun-rubbed salmon fillet cooked to a crispy texture. Topped with yellow sweet potato puree, papaya, black turtle beans, and sour orange salsa. The dish is served with creamy guacamole, sweet potatoes, and flour tortillas.
This delectable roast meat made its way into the hearts of meat lovers visiting Phuket. Our carne asada uses only high-quality Angus ribeye cooked to your desired doneness. The steak is accompanied by flour tortillas, red chimichurri, refried beans, and roasted jalapenos. Served with sweet potatoes and charred corn.
A beloved Latin American dish that combines seasoned, slow-cooked rice with an assortment of seafood. Our arroz con marischio offers a blend of favourite seafood, such as scallops, shell mussels, prawns, and blue carb, mixed in aji amarillo and fragrant fish fumet. To top it off, the dish is finished with a dash of parmesan cheese.
Casa Boho Desserts & Drinks
Apart from Latin American popular dishes, we also offer a variety of desserts and drinks to complement your meal or while you enjoy a vista of azure Andaman Sea on our rooftop.
Some of our top desserts include Tres Leche, a fluffy tres leches cake soaked in four types of milk and topped with whipped cream, or enjoy Dolce de Banana, a slow-cooked bananas dish served on Breton biscuit and finished with vanilla ice cream.
Our drinks are handcrafted by expert mixologists, and our bar offers various classics like Bramble, Hemingway Daiquiri, and signature cocktails, including Paria, Roja To Blanca, Phuket Horchata, and more.
Enjoy Your Meal with a View at Casa Boho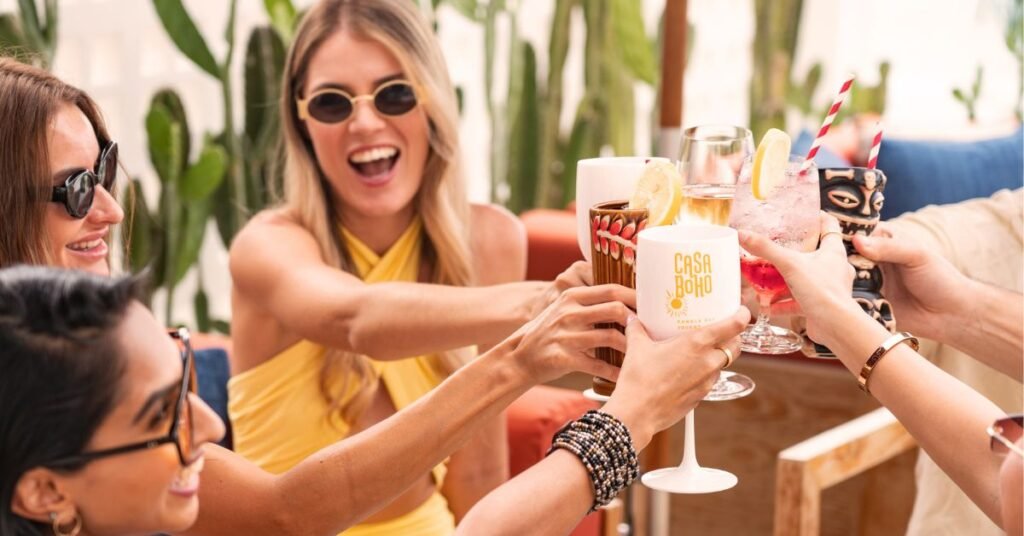 As you can see, Casa Boho is a Latin American restaurant that offers a range of cuisine, desserts and drinks for your tranquil getaway in Phuket.
At Casa Boho, you can indulge in a covered dining spot of one of the best rooftop bars in Phuket, with comfortable seating and a bohemian atmosphere of live DJ music and the grand vista of the Andaman Sea.
Our rooftop restaurant offers spaces where you can spend your holiday enjoying memorable moments under the shade of warm sunset. This includes:
The Pool Deck, where you can enjoy your cocktail by the infinity pool while watching the sun or the stars.
The Roof Terrace offers the best panoramic views of the Andaman Sea, making Casa Boho the top oceanview restaurant in Phuket.
The Den is a playground space downstairs from the restaurant, furnished with funky décor and filled with activities that are perfect for some after-meal enjoyment.
Casa Boho Opens Daily: 12:00 p.m. – 10:00 p.m.
---
Contact us
Tel. (+66) 76 231 234
Email: info@casabohophuket.com
See the latest offers and happenings at our website or follow us on social media:
Facebook: Casa Boho Phuket
Instagram: casabohophuket