The sunset view from the celebrated island of Phuket is, without a doubt, an astonishing sight to experience. Phuket is known for its stunning beaches and coastal scenery, and watching the sunset over the Andaman Sea always comes recommended by locals and tourists alike. And what is better than watching a sunset? Of course, it is to have a nice meal whilst enjoying the sunset view!
Even so, there are many sunset view restaurants in Phuket opening across different beaches and hilltops of the island, making some of us wonder if it is still worth it to visit these Phuket restaurants.
Why The Sunset View in Phuket is A Must-See?
You may have heard of the famous sunset in Phuket, but what you may not realize is that it is an extraordinary experience, even when compared to sunsets in other places. Here are some of the reasons why:
Vibrant Colors and Transitions: The first signs of the Phuket sunset reveal hues of soft orange and pink, creating a warm glow across the horizon. The sun casts shimmering reflections on the gentle waves, creating a serene atmosphere. As time passes, the colors intensify, transitioning into deep shades of red, purple, and gold. As the sun disappears below the horizon, the sky continues to evolve, providing a delightful spectacle.
Dazzling Natural Beauty: Phuket's sunset vistas are the perfect showcase of the stunning beauty of nature at its finest. The combination of vibrant colors, clear skies, and the tranquil sea creates a captivating scene that leaves visitors in awe. The palm trees and silhouettes of longtail boats dotting the water add to the tropical ambiance. You might have the chance to witness local fishermen returning from their day's work, their boats creating a picturesque scene against the backdrop of the setting sun.
Romantic and Memorable Experiences: Are you on a getaway with your significant other or on a honeymoon? The beauty of the sunset in Phuket is the ideal setting for romantic moments. Whether you are with a loved one or celebrating a special occasion, watching the sunset together can be a truly magical experience for creating cherished memories.
Unique Cultural Significance: In Thai culture, sunset holds significance as it marks the transition from day to night. It is a time when locals and visitors alike pause to appreciate the beauty of the natural world. It allows you to truly immerse yourself in the local culture and connect with the rhythms of the island.
The sunset view in Phuket is a sensory delight that combines natural beauty and tranquility into an unparalleled happening. It is also why during this time, you can also indulge in the vibrant atmosphere that Phuket offers. Beachfront bars and sunset view restaurants in Phuket often host sunset celebrations, where you can sip on a refreshing cocktail and relish a great dish while admiring the scenery.
Best time to visit sunset view restaurants in Phuket
As you may have realized, sunset in Phuket is a sight unlike any other. But said view ought to be relished at the best time. To ensure that no clouds or rain can ruin your million dollars view, here are some tips on the best time to visit a sunset view restaurant in Phuket:
November to April: Best Time of the Year
The best time of year to enjoy a meal at a sunset view restaurant in Phuket is during the "dry season", which typically spans from November to April. During this period, the weather is generally clement and sunny, while the chances of rain are relatively low, providing optimal conditions for enjoying outdoor activities and of course, stunning sunsets. However, you should also note that this period is also a peak tourist season, so it is advisable to make restaurant reservations in advance.
May to October: Dramatic Sunset Views
May to October is usually when the rain comes pouring and with a higher chance of humidity. Still, does not mean you will not be able to enjoy sunsets during this time. In fact, the rainy season can offer dramatic and colorful sunsets, with scattered clouds adding to the picturesque scenery. Just keep in mind that weather conditions can be more unpredictable during this season, so it is advisable to check the weather forecast and be prepared for occasional rain showers.
Overall, if your main focus is to enjoy sunset views at a restaurant in Phuket, the dry season would be the most favorable time to visit. But if you want to challenge the weather, high tides, and face a more dramatic sunset, the rainy season might be your answer.
Sunset at Different Angles
Apart from the unique and brilliant sunset of the island, Phuket also offers numerous spots for watching the sunset. Ranging from viewpoints and promenades, private villas and resorts to beachfront restaurants, and not to forget rooftop bars in Phuket that provide some of the best sunset scenes imaginable.
Casa Boho — Rooftop Restaurant in Phuket with A Sunset Vista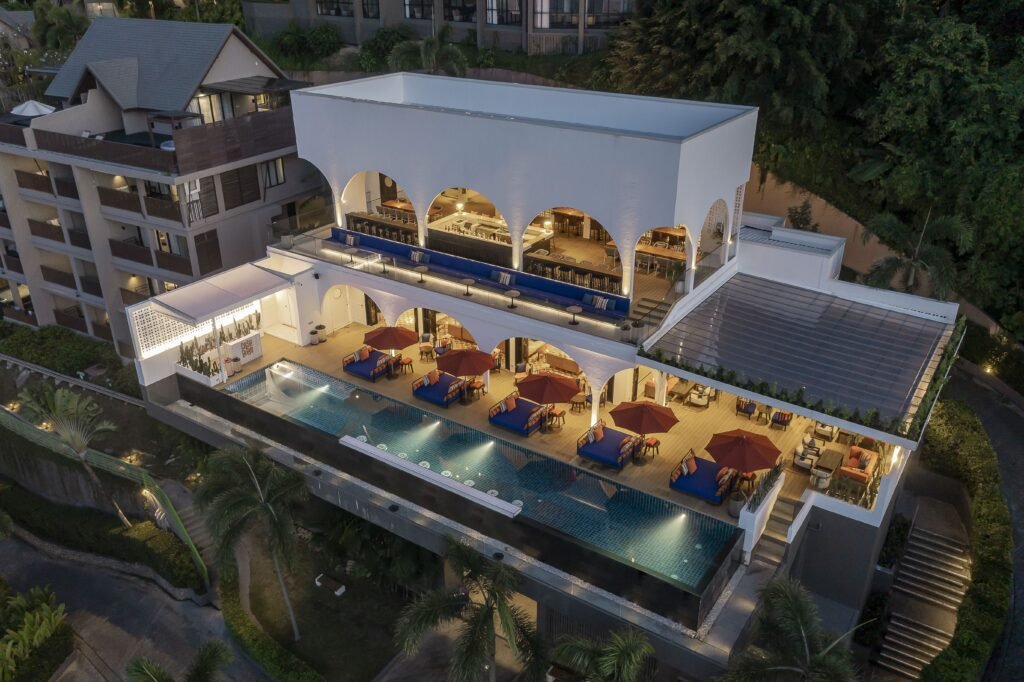 If you are looking for the top restaurant and bar with a clear sunset view to enjoy along with your meal, Casa Boho is the place.
Casa Boho is a bohemian-style restaurant in Kamala located on the rooftop of Hyatt Regency Phuket Resort. It is complete with open-air rooftop bars, swimming pools, live DJ music, and delectable Latin American cuisine. A perfect atmosphere to relish a Phuket sunset.
Indulge in a covered dining spot of one of the best Rooftop Bars in Phuket with comfortable seating and a range of Latin American culinary delights, such as Cuban-style croquettes, tortillas, seafood ceviches, tiraditos, a range of signature desserts, a vast array of cocktails served under the bohemian atmosphere of live DJ music and the grand vista of the Andaman Sea.
Casa Boho also offers spaces where you can spend your holiday enjoying memorable moments under the orange sunset. This includes:
The Pool Deck, where you can enjoy your cocktail by the infinity pool while watching the sun or the stars.
The Den is a playground space downstairs from the restaurant, furnished with funky décor and filled with activities that are perfect for some after-meal enjoyment.
Casa Boho Opens Every Day: 12:00 PM – 10:00 PM
Contact us
Tel. (+66) 76 231 234
Email: info@casabohophuket.com
See the latest offers and happenings at our website or follow us on social media:
Facebook: Casa Boho Phuket
Instagram: casabohophuket