The gastronomic landscape of Phuket is a vibrant and tantalizing tapestry, reflecting the island's embrace of diverse culinary cultures. Amidst its shores, seafood delicacies, authentic Thai flavors, Indian, and Japanese restaurants can all be found in this world-renowned destination. Among the many restaurants and rooftop bars in Phuket, Latin-American restaurants are one of the favorites for both locals and visitors alike.
Allow us to introduce Casa Boho, a rooftop restaurant in Phuket with bohemian vibes, panoramic vistas, and expertly curated dishes and drinks. Visiting this restaurant is the means to elevate your tropical holiday experience.
Rooftop Restaurant & Bar Overlooking Kamala Bay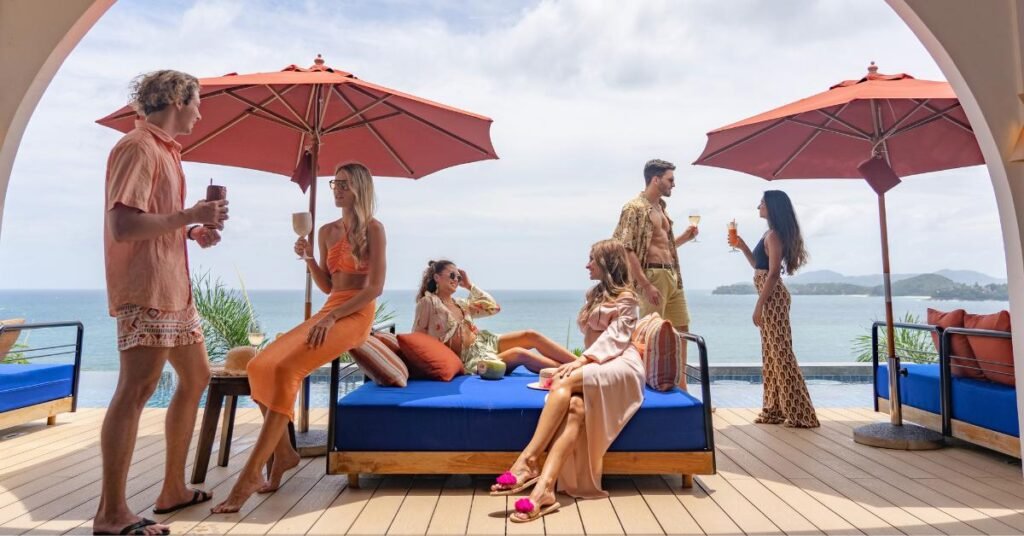 Casa Boho is an exclusive rooftop bar in Phuket atop the green hills overlooking the golden beach and the azure water of Kamala Bay. Our rooftop bar is decorated in a colorful bohemian style, complemented by a delightful atmosphere of soothing Latin beats to provide all our guests with a great experience. It is here that you can excite your taste buds with palatable Latin-American cuisine by our chefs and savory cocktails crafted by expert mixologists.
Our establishment is meticulously divided into four distinct zones, offering various experiences to liven up your meal time.
1. The Restaurant
The restaurant area is the heart of Casa Boho. Here, you can indulge in a covered dining spot with comfortable seating under the shade of our rooftop restaurant. This space is ideal for food lovers here for a great meal or those looking for a private and intimate corner to call their own in one of the best restaurants in Kamala.
2. The Pool Deck
The Pool Deck offers a panoramic view of the sea while taking a dip in the infinity pool yourself. This area is designed for partygoers looking to lounge on daybeds by the pool with a well-crafted cocktail in their hand as they watch the sun gradually disappear over the horizon of Kamala Bay.
For the more active, the pool is yours to dip, swim, and dive. Have your cocktail served to you at our pool bar while live music keeps the energy levels high. Enjoy all the experience to the fullest at our stunning sunset-view rooftop bar in Phuket.
3. The Roof Terrace
If you are in Phuket hoping to find the perfect spot for a sunset, then The Roof Terrace is the place. Head upstairs to this posh bar, lay back on the infinite sofa, and feel the sea breeze drift through while bathing in the mellow sunset at dusk.
4. The Den
The fun continues even when the meal is over. Take the stairs down to The Den, an exclusive playground for adults. This entertainment area is filled with various games, such as pool tables, foosball, table tennis, and many more. Or choose to lounge on the comfy sofas and armchairs while appreciating the funky decoration.
Choose the area that suits your desired taste and wind down or party at one of the best rooftop bars in Phuket.
Our Latin-American Food & Beverage
If you are a foodie traveling the world searching for culinary delights, Casa Boho offers the world of Latin-American cuisine delivered with the freshest ingredients. Starting with an assortment of tapas and tacos from small to big bites, such as Croquetas de Carne Assada, Calamari, Anticuchos de Pollo, Charred Vegetable Skewers, and more.
For those craving seafood, we offer you a delightful selection of ceviches and tiraditos, like Scallop and prawn Ceviche, Tiradito Hamachi, Octopus Tiradito, as well as our signature Oysters & Company, a must-try dish when you visit our restaurant.
After finishing your main course, cleanse your taste buds with our dessert menu, including Tres Leche—a fluffy cake soaked in four types of milk topped with whipped cream and strawberries, or Dolce de Banana—a slow cooked banana in cinnamon syrup served on Breton biscuit and finished with vanilla ice cream.
Perfect Place for Celebrations & Gathering
Casa Boho is the perfect place for celebrating happy occasions. With its enchanting rooftop setting, captivating ambiance, and exceptional culinary offerings, our restaurant is able to create an atmosphere that is tailor-made for memorable moments and joyful get-togethers.
Whether you're celebrating a special occasion, hosting a birthday party, commemorating an anniversary, or simply gathering with friends and family, Casa Boho offers an unparalleled backdrop that sets the stage for an unforgettable experience. The combination of the Bohemian-inspired décor, the sweeping views of the Andaman Sea, and the carefully curated menu creates a sense of magic that enhances any celebration.
So, if you are seeking a venue that transcends the ordinary and transforms your celebration into something extraordinary, Casa Boho stands as the perfect destination to gather, toast, and revel in the beauty of life's most cherished moments.
Casa Boho Opens Daily: 12:00 p.m. – 10:00 p.m.
Contact us
Tel. (+66) 76 231 234
Email: info@casabohophuket.com
See the latest offers and happenings at our website or follow us on social media:
Facebook: Casa Boho Phuket
Instagram: casabohophuket